Listen to samples of some of our most popular ensembles available for booking throughout New Jersey, Eastern PA, NYC and Delaware!

**Our ensemble offerings are not limited to the samples on this page. Any of the following instruments are available to be booked as soloists, duos, trios or quartets: Flute, Harp, Violin, Viola, Cello, Piano, Organ, Classical Guitar, Jazz Guitar, Upright Bass, Mandolin, Trumpet, Saxophone, Percussion & Vocals.

Interested in having JDM perform for your wedding? Check out our Wedding FAQ!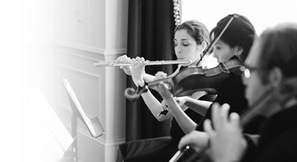 Visiting Jaclyn Duncan Music on a mobile phone? Click the full site view below to listen to sound clips of our music on this page!
Copyright 2010-2013
© Jaclyn Duncan Music, All rights reserved.