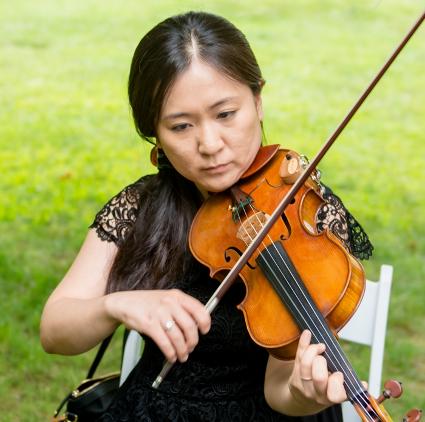 Samantha Crawford, Violinist

Hyo Samantha Crawford joined the Jaclyn Duncan Music and Trillogie Trio in 2015 and is enjoying learning more genres of music…including improv! She recently moved back to her hometown of Philadelphia from South Bend, Indiana, where she had held the position of Assistant Concertmaster of the South Bend Symphony Orchestra for ten years. She also performed many Childrens Outreach Concerts with the South Bend Symphony String Quintet composed of the principal players. She has performed in countries such as England, Spain, Jordan, Israel, Bermuda and all over the US including Hawaii.
Samantha currently performs with the Harrisburg Symphony, The Philly Pops, New Jersey Symphony, Princeton Opera, and Delaware Symphony to name a few. She has studied with world renowned teachers such as, Yumi Hwang-Williams, Kimberly Fisher, Nicholas Kitchen, the late French violinist, Michele Auclair.
Samantha currently lives in Philadelphia with her husband and 5 feathered children, Amo, Calvin, Hobbes, Peanut and Macadamia.